Winter can be a challenging time for water features. Water features in areas such as Denville that experience snowfall can freeze over in winter. Freezing temperatures can damage the seal and pump of your water feature.
Follow these tips to protect your outdoor water feature during winter.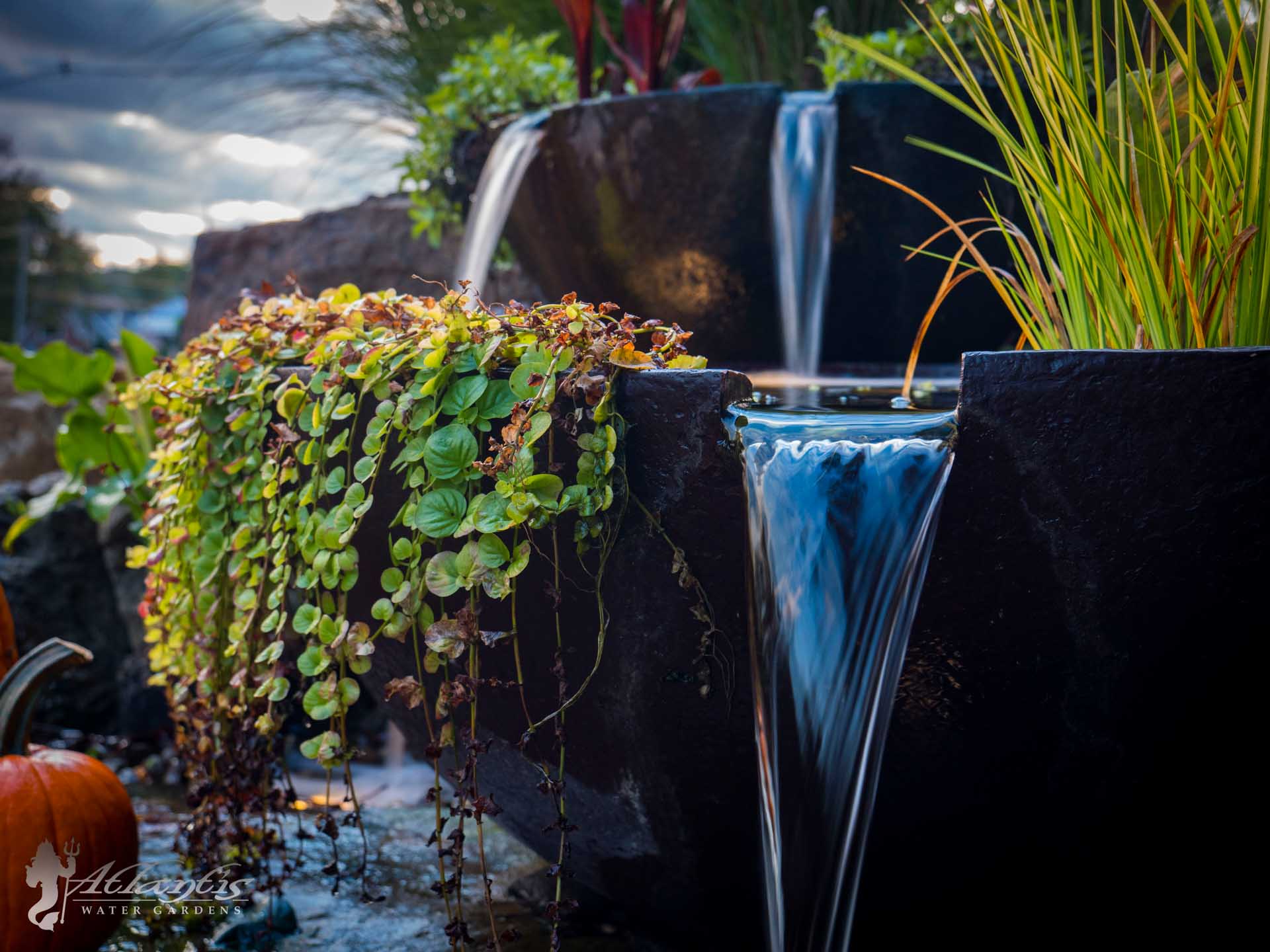 Drain Your Water Feature
When water freezes, it expands and can crack and damage your water feature. If this happens, you may end up spending a ton of money on expensive repairs or may have to replace them. To prevent damage to your water feature, drain it. Clean it with a bleach solution (one tsp. bleach and one-gallon water).
If you face difficulty draining your water feature, cover it with a plastic sheet to trap heat. Use bricks or large rocks to secure the borders of the sheet. It will keep the sheet stable in windy conditions.
Remove, Clean, and Store Your Pump
Remove any pumps connected to your water feature. Fill up a bucket with warm water and immerse the pump in it. This will prevent it from drying out.
Debris and algae can clog your pump. To prevent this from happening, clean it thoroughly. To clean your pump, soak it in a mixture of water and vinegar and pump clean water through it.
Once your pump dries, store it in a garage or storage shed.
Turn Off Outdoor Waterfalls
When temperatures decrease, and your waterfall freezes over, ice dams can form. Ice dams can divert water away from the recirculation system. This will trigger a chain reaction, which in turn will encourage more freezing. To prevent ice dams, turn off any outdoor waterfalls.
Care for Plants and Fish
Winter can be a challenging time for the fishes and plants. Cold weather can damage plants. If you have fishes, remember that their metabolism slows as temperatures decrease. If you continue feeding your fish regularly, the excess (uneaten) food will decompose, promoting mold and fungal growth. Excess fish food can also cause a rise in nitrate and phosphate levels in the water.
To maintain good water quality, feed your fish less often. Consider switching to a fish food with low protein. To protect aquatic plants, trim them and move them to the deepest part of the pond.
Looking for a garden water fountain expert near you? Look no further than Atlantis Water Gardens. We will help you choose the right water feature for your garden. Our team will transform your backyard into an oasis of relaxation. To make an appointment, call 973.240.5833.
Take The Plunge!
Schedule a phone call and get to pick the brain of one of our experienced designers about your project
Schedule My Call Now
Lovin' It? Want more pics?
We got em. 🙂 Here's some pretty photos you can look at to destress.