Here's some articles we wrote on common problems
Koi Pond Repairs for Leaks, Green Water, Plumbing Issues, & more
Pond Repairs in Denville, Rockaway, Morris County NJ
Looking for koi pond repairs in Morris County NJ? Leaks, green water, plumbing issues, (or anything else)

No problem, we've got you covered.

Perhaps you just bought a home in the North or Central New Jersey Area that has an existing pond and you are wondering how to take care of it? Maybe you've had a pond for a while that has always given you trouble? Our pond maintenance, repair & renovation services are designed specifically for those customers in the Denville, Morris County area that own a pond and need assistance/advice with their existing Pond. Whether you have algae problems or waterfall issues, or simply just have questions on how to take care your koi pond repairs and maintenance , we're here to help.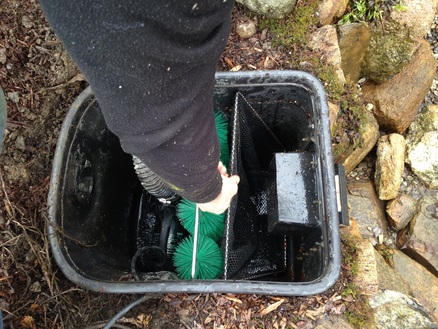 Ready to get these issues fixed? Get started in the form below:
If you need help with an issue, or are ready to get started with your project, fill out this form and we'll get rockin'! (Pun intended)
Here's what YOU want; and what WE are really good at building
Did your new home come with a pond?
Pond & Waterfall Repair, Denville, Rockaway, Morris County NJ
Have algae problems or waterfall issues or simply just have questions on how to take care your pond maintenance and repairs, we can help.
What is the state of your water feature?
Fixing problems for ponds and waterfalls, Denville, Rockaway, Morris County NJ
When you contact us, try to have some basic information ready for us. We are going to ask you a number of questions to find out the "STATE" of your water feature. It's always best to send us your pictures first so we can see what you are talking about.
Some of the questions we'll ask you…
•How big is your water feature (length & width)?
•When was the last time it was running ?
•How often do you have to fill it ?
• How long has this been happening ?
• How much water do you lose in a 24 hr period ?
• Does it hold water level when the pump is off ?
• Can you see any visible water on the ground?
• Is there a bubble in the bottom of the pond?
• Have you considered rebuilding it?
• Do you have a budget it mind for your fixes?
---
Tried everything to find your leak ? But still can't find it ?
Pond and Waterfall Leak Repair, Denville Rockaway, Morris County NJ
A good possibility is that you have a hole in your pond liner. That is just what you needed, something else to fix. Not to mention, the odds all always against you, and the hole is probably somewhere near the bottom of the liner. And why should it not be? Or… a little visitor has made a nice home between the rocks in your waterfall this winter when you shut your pumps off? The possibilities for leaks that occur are seemingly endless, a lot of times it's like playing "Wack-A-Mole" … as some as you fix something, another problem pops up to drive you NUTS!