Here's some articles we wrote on common problems
Recreational Swim Ponds in Livingston, Millburn and Summit, NJ
A recreational pond is a natural pond which, as the name suggests, can be used for recreational purposes. Recreational ponds are designed to mimic the appearance of natural water bodies with waterfalls, boulders and/or rocks. A recreational swim pond in Livingston can help create a designated space for relaxation, where you can chill out every day after work or on weekends with your friends and loved ones.

At Atlantis Water Gardens, we know the ins and outs of building recreational swim ponds in Summit, NJ. Atlantis Water Gardens has carved a niche for itself by regularly meeting and exceeding customer expectations. Nothing excites us more than designing and building dreamy water features. Our ability to bring our customers' vision to life sets us apart from the competition.

Equipped with specialized knowledge and skills, our technicians have years of experience of managing complex projects from start to finish. They have a deep understanding of the factors that can affect recreational pond construction timeline. Before starting a pond construction project, they come up with a plan to manage the factors at play. Effective planning ensures projects are completed on time and within the budget.

Our comprehensive pond building checklist is designed to help ensure that nothing important is forgotten during execution and tasks are carried out in an orderly and organized fashion. It promotes excellence by reducing wastage and helping prevent pond building mistakes.

When choosing materials for their ponds, many homeowners are overwhelmed by too many choices. We help homeowners evaluate their options so they can choose the right materials for their ponds. For homeowners on a tight budget, our team can suggest affordable alternatives to expensive materials.

We push ourselves every day to think outside the box. We stay up-to-date on pool construction trends. Our technicians leverage new technologies to create value for our customers.

When designing recreational swim ponds in Millburn, many water feature designers get so obsessed with aesthetics that functionality slips their mind. Our water feature designers strike a balance between aesthetics and functionality in their designs.

Project cost overrun is every homeowner's worst nightmare. We take various measures to prevent cost overruns. Before starting a project, our team defines its scope, so everyone knows the general and specific purpose of the project. We plan everything down to the last detail to avoid scope creep. An effective plan allows us to allocate resources judiciously. We keep project owners posted on the progress of their projects. If subcontractors are used, we act as a bridge between them and the customer, ensuring that all the parties are on the same page.

Need help designing and building the recreational pond of your dreams? Call our office at 973-627-0515.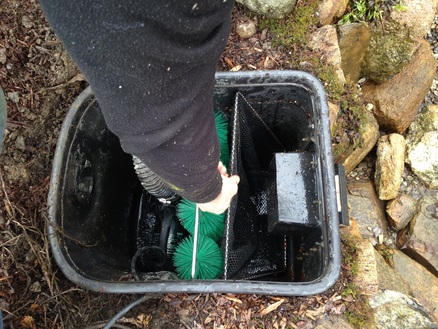 Ready to get these issues fixed? Get started in the form below:
If you need help with an issue, or are ready to get started with your project, fill out this form and we'll get rockin'! (Pun intended)
Here's what YOU want; and what WE are really good at building
Did your new home come with a pond?
Pond & Waterfall Repair, Denville, Rockaway, Morris County NJ
Have algae problems or waterfall issues or simply just have questions on how to take care your pond maintenance and repairs, we can help.
What is the state of your water feature?
Fixing problems for ponds and waterfalls, Denville, Rockaway, Morris County NJ
When you contact us, try to have some basic information ready for us. We are going to ask you a number of questions to find out the "STATE" of your water feature. It's always best to send us your pictures first so we can see what you are talking about.
Some of the questions we'll ask you…
•How big is your water feature (length & width)?
•When was the last time it was running ?
•How often do you have to fill it ?
• How long has this been happening ?
• How much water do you lose in a 24 hr period ?
• Does it hold water level when the pump is off ?
• Can you see any visible water on the ground?
• Is there a bubble in the bottom of the pond?
• Have you considered rebuilding it?
• Do you have a budget it mind for your fixes?
---
Tried everything to find your leak ? But still can't find it ?
Pond and Waterfall Leak Repair, Denville Rockaway, Morris County NJ
A good possibility is that you have a hole in your pond liner. That is just what you needed, something else to fix. Not to mention, the odds all always against you, and the hole is probably somewhere near the bottom of the liner. And why should it not be? Or… a little visitor has made a nice home between the rocks in your waterfall this winter when you shut your pumps off? The possibilities for leaks that occur are seemingly endless, a lot of times it's like playing "Wack-A-Mole" … as some as you fix something, another problem pops up to drive you NUTS!