Fountainscapes | Morris County New Jersey
Fountainscapes Installations and Service Morris County NJ – Aquascape Fountains
Atlantis Water Gardens installs and services fountainscapes in the Morris County NJ area. Fountainscapes are small decorative water features such as tabletop fountains, container water gardens, stand-alone fountains, bubbling urns, spitters, and fountains that incorporate an in-ground reservoir. Birds love these little pieces of beauty. Atlantis Water Gardens is one of the most accomplished and experienced water feature builders in the industry. Check out our pricing tool if you are looking for fountainscapes in the Morris County NJ area!
So what's this thing gonna cost me? Good question. Check out all the Fountainscapes and their prices on our Project Planner
What does a Fountainscape cost?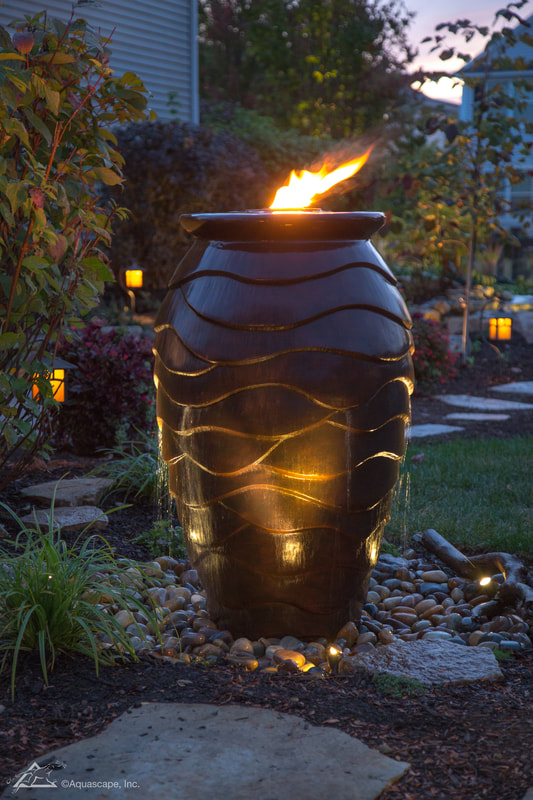 Here's what Ann & Scott had to say

I'm a "Do-It-Yourselfer"……..but for this project I decided to hire Jaak and his team with Atlantis Water Gardens. They did an unbelievable job!!!!!! Their attention to detail, focus, and hard work was absolutely amazing. I love finding people who are passionate about what they do, and they all took such pride in their finished product. I would highly recommend them to anyone!

Atlantis Water Gardens is a top notch company. …..particularly if looking for top quality at a reasonable price. Atlantis is the pond builder to use in Morris County and beyond…do not look elsewhere. I have been a customer for over seven years and find owners Jaak and JoAnn to be a pleasure to deal with; outstanding customer service. They built a beautiful pond that continues to look terrific seven years later. Further, their pond technicians/service team is professional, efficient and customer service minded. Mostly recently, I dealt with Rich, who shared a wealth of wisdom and counsel about taking care of my pond. Someday, I will send them my resume, in the hope of working with such an admirable organization.
In the mood for research?
Take The Plunge!
Schedule a phone call and get to pick the brain of one of our experienced designers about your project
Schedule My Call Now
What Andrew & Eileen have to say
We just love our pond… I can't even describe the feeling we get being out here… We're always amazed how quickly the time goes by when we just…relax. Have a glass of wine… music… in the morning I'll come out and have a cup of coffee. The birds come to get their bath… I never knew a pond… could create such… pleasure!
~Andrew & Eileen Louisa
⭐⭐⭐⭐⭐
Ponds
Natural Ecosystem Water Gardens
Dreaming of stepping outside your backdoor one early morning and being greeted with the sound of falling water and fish swimming up to the edge to greet you? Yeah… we do to. Thats why we build them for a living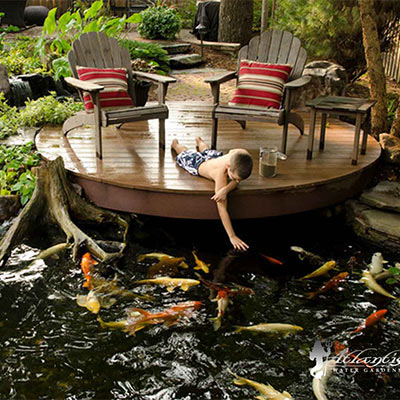 Waterfalls
Naturalistic Disappearing Waterfalls
Imagine relaxing on your back patio, leaning back into your comfy chair and taking in all the sights and sounds of a brook in the forest.
Fountainscapes
Ornamental Fountains & Water Gardens
These fountains do it all: provide the peaceful sound of falling water, attract birds, are a gorgeous focal point for your favorite spot at your home.
If you need help with an issue, or are ready to get started with your project, fill out this form and we'll get rockin'! (Pun intended)