Things to Consider for Pond & Waterfall Cleaning
Pond & Waterfall Cleaning Tips | Denville, Rockaway, Morris County NJ
Ok. So spring is coming. You got a pond. And last fall the yard guys blew all the leaves right into it. Now you try to not get close. It stinks. You're like oh man, what do I do?

Well.
YOUR POND IS WAKING FROM ITS WINTER SLUMBER AND IT'S REALLY CRANKY!
Just like a bear coming out of hibernation, your pond is tired of the cold weather and SOMEBODY wants to EAT! That somebody is ALGAE and its food source is nutrients that have found their way to the bottom of your Morris, Passaic, Essex, Union, or Bergen county area pond since the autumn months. Atlantis Water Gardens in Denville, Morris County NJ offers professional spring pond cleaning and maintenance services to make your life easier when maintaining your water feature.
POND FILTRATION IS COMPLETELY INEFFECTIVE IN COLD WEATHER MONTHS
Your filtration is completely ineffective in cold weather months so dead leaves, sticks, fish waste and other wind blown debris have had lots of time to decompose and transform into sweet, sweet pond sludge while you haven't been paying much attention to your frozen backyard paradise (It was too freakin' cold to go out there in my slippers and Superman pajamas!). A majority of water feature owners are coming out to their favorite aquatic sanctuary to find that they now have wall to wall carpets of algae in their fish's underwater living room and they're realizing that this won't be a simple "Plug In The Pump and it's Waterfall Time!" type of deal.
EVERY WATER FEATURE NEEDS CLEANING SOONER OR LATER
Don't sweat it! Everybody's got to do some sort of Spring Cleaning and that includes Mother Nature. Winter snow melts flush out natural bodies of water, sweeping away a lot of the "Yucky Stuff" that accumulates over the Winter in natural ponds. Backyard pond owners don't have that luxury with our closed ecosystems, so it's on us to get in there and kick a little pond scum butt!​​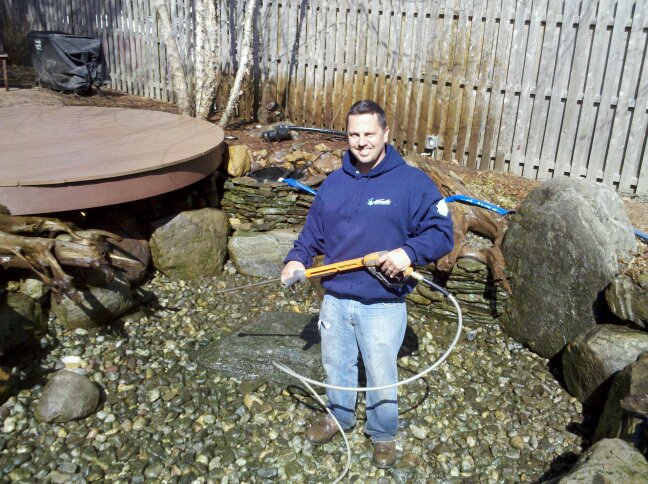 You've got 2 choices in this deal:
1.
Kiss that new manicure goodbye, 'cause "Algae is a color that really goes with my eyes" and you're doin' this thing solo!
2.
Pick up the phone and call the "ROCK STARS" from Atlantis Water Gardens and we'll gladly do battle with the "Green Beast" in your backyard escape, 'cause we eat algae for breakfast!

Well, sometimes it does get in your mouth when pressure washing…
Ok, you've thought about it
Number 2 it is.
(We knew you weren't touching that thing)

Depending on what type of water feature you have, there are a few ways you can go:

FULL or PARTIAL pond cleaning

The usual Spring Pond Maintenance process in New Jersey minimally involves partially cleaning your pond by disassembling and thoroughly cleaning your filtration system. Most ponds have some type of skimmer filter and a biofalls (waterfall) filter, so those will need to have all the components removed and washed at the very least. After a long, hard winter, most people opt to have the entire pond cleaned to remove all of the decaying organics (that'd be a fancy term for dead rotten leaves) that have collected in the pond. Which option you choose depends on the state of your water feature.
Partial Cleaning:
Clean the skimmer and biofalls only:

1. Remove and clean all filter pads, bioballs, and nets or baskets.
2. The skimmer & biofalls will be completely drained and vacuumed clean.
3. Re-install all the above and restart the pond.
4. We can install activated carbon and liquid barley if you like, for an additional fee.
Full Cleaning:
Clean the entire pond:

1. Drain pond down to six inches in depth.
2. Remove fish and place in large containers with original pond water.
3. Drain remainder of pond and power wash pond and stream/waterfall.
4. Remove debris from the pond bottom..Clean all filter pads, bioballs, biofall unit, skimmer and pump as needed.
5. Clean all light lenses and inspect for burned out bulbs.*
6. Make necessary minor adjustments to rocks if needed.
7. Fertilized all potted plants. ***
8. Add dechlorinator if needed and start the pond filling.
9. Re-introduce fish.
Options:
Install EcoCarbon and Liquid Barley into each Aquascape biofalls. If you have multiple biofalls, each will contain carbon and Liquid Barley. Should your pond have no biofalls, they will be installed directly into the pond.

Notes:
*The majority of debris is to be removed. If the pond is 'sterilized', by removing all living bacteria (bio-film), the established ecosystem will be re-started .
**Defective underwater LED fixtures can be replaced at an additional fee.
***Plants will be divided and repotted upon your request for an additional fee.
---
Take The Plunge!
Schedule a phone call and get to pick the brain of one of our experienced designers about your project
Schedule My Call Now
This is an article from our Learning Hub. Want more like this? Click on the button to see our entire library of useful information!
All that info make you tired?
Don't worry. Here's some pretty photos you can look at to destress.