It's natural to have these thoughts and concerns, but it is more important to remember that a professionally-installed water garden has steps leading into the pond. The first shelf is only ankle high once the gravel is laid down. The smallest area in the bottom is just above your knee, so it is not constructed like a swimming pool. We do recommend that you make your neighbors aware of the water garden and educate your own children and friends about the safety of any body of water..
This is an article from our Learning Hub. Want to learn more tips and tricks about water gardens?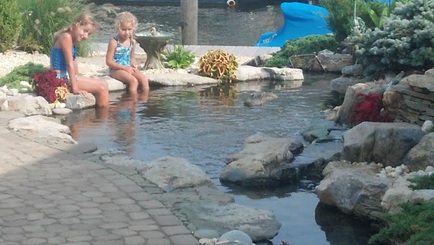 ---
If you'd had enough, and don't even feel like reading or searching for more info, just give us a call. We'll help you out.
Take The Plunge!
Schedule a phone call and get to pick the brain of one of our experienced designers about your project
Schedule My Call Now
Learning make you tired?
Don't worry. Here's some pretty photos you can look at to destress.